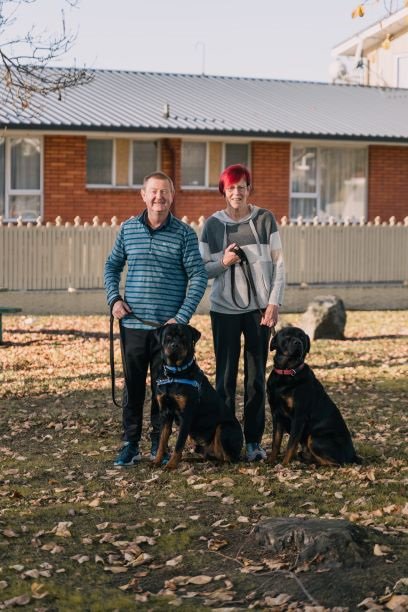 Highway Lodge Owners Lynn and Neil and their beautiful Rottweilers Samson and Titan
Lifestyle, opportunity, and passion were all things that came to mind before Lynn and Neil decided to cross over the Cook Straight.  
Pairing Lynn's communication and psychology background with Neil's accounting and business background was the recipe to start a business where the customers are at the heart of everything. The joint communication and operational skills synchronise ensuring business runs smoothly – but more importantly, guests always feel like they are welcome and well looked after before they even arrive.  
There are many things that Lynn and Neil wanted to do differently in comparison to other motels they have stayed at, from New Zealand accommodation, all the way around the globe – nothing was quite like what they envisioned and have created here at Highway Lodge Motel.  
From allowing your furry friends to come on holiday with you (yes Highway Lodge Motel is pet friendly, and yes you may spot their beautiful Rottweilers Samson and Titan!) to actively engaging with everyone who walks through their doors.   
The team love getting to meet people from all walks of life and will go out of their way to give you the best tips from where to eat, drink and explore in the beautiful Clutha region!  
 Lynn and Neil's Top 3 tips of things to do:   
Visit the Catlins to enjoy nature. See everything from the waterfalls, seals and the birdlife on the walking tracks, all the way to the Cathedral Caves if the tides are right – and you can't forget about the surreal sunrise at Nugget Point!  
 Strolling along the Clutha riverbanks in Balclutha.  
 Taking time to visit the quaint towns in the area: Owaka, Lawrence, taking in the cafes and Kaka Point – especially if you're a surfer!  
Ideas for eating out in Balclutha:   
Captains Café (South Otago Hotel)
Casafuego Eatery & Bar
Picassos (Rosebank Lodge)
Raj Indian Restaurant
South Otago Town & Country Club
Two Fat Staggs (Peggydale)
The Point Cafe (Kaka Point)